Additive Manufacturing - Leading to Qualifications & Production
We help companies involved in development projects in Additive Manufacturing:
• In the choice of the best additive manufacturing process
• In the development of the production and it's qualification
• On the justification of compliance with the standards or regulations
In line with NAMIC and WSG objectives, the Programme aims at speeding up the transfer of global capabilities into Singapore through imparting the methodology for additively manufactured part selection, design, manufacturing, post-processing and qualifications.
The general background is that repairing and manufacturing parts in the aerospace industry is one of the potential applications of additive manufacturing (AM) technologies. In this sector, AM processes must be developed to meet the industry's stringent requirements, ensuring that the products can achieve the robust performance levels established by traditional manufacturing methods, and most importantly comply with the regulation framework. Requirements for commercial aircraft parts which are mainly based on the regulations of the European Aviation Safety Agency (EASA) and regulations of the Federal Aviation Administration (FAA).
These regulations are extensive and detailed and the most relevant regulations in the context of AM can be found in CS-25, Book 1, Subpart D, Subsections CS 25.603 and CS 25.605. This state of art techniques must be applied in the validation of processes, in addition to the standards specific to the parts manufactured.
Technical Director, industrial director, operations manager, mechanical designer, manufacturing engineer. People involved in incorporating additive manufacturing into their company's production process. It applies to all sectors including and not limited to aerospace, medical, marine, oil & gas, automotive and many other industries.
Support on Qualification and Production:
We can support companies involved in development projects in AM:
• In the choice of the best additive manufacturing process
• In the development of the production and its qualification
• On the justification of compliance with the standards or regulations.
Following is an Illustration of the Processs: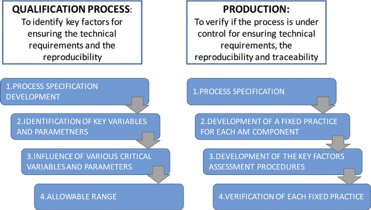 Example of a Success Story
We would like to share a success story using an example of CETIM additive manufacturing qualification support. This project is in the medical sector, which is another sector filed with stringent rules for process management: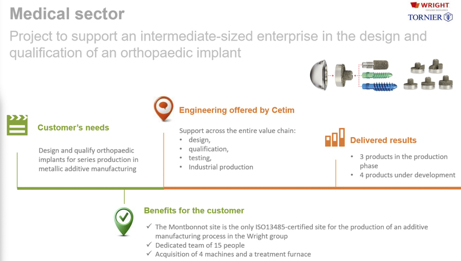 In the above example, we assisted our client to successfully produce 3 products and 4 more products are in the pipeline. A detailed description of our support are as follows
Customer's Roles & Responsibilities
Cetim's Roles & Responsibilities
Identification of the need for its product
Identification of the relevant technology
Advice for design adaption required for the chosen design
Support for process development: machine parameter, etc…
Support for post process development: technology to choose for finishing, cleaning, etc…

 

Identification of standards to be met for the product
Sample manufacturing and characterization
Standard analyze, test plan definition, synthesis and report
Prototype manufacturing and testing
Purchase of the machine
Training, installation and operational qualification, report
Operational qualification: test plan development for demonstration of process stability, analyze and report, etc…
Support for process development
Definition of powder specifications
Heat Treatment recipe development
Pre-Production
Qualification tests on the product: metallurgic, static, fatigue tests
Certification by Safety Authority
 
This example could be applied to suit your company's requirement, be it in aeronautic or in other sectors. The objective is to be ahead of the game and we are able to help and expedite the process.
We proudly present our CETIM's team of experts who may be assigned to your project. They are:
Mr Thierry Gautreau, Mr Deja Djeapragache, Mr Paul Calves, Mr Benoit Verquin, Ms Florence Doré, Mr Patrick Ebadi, Fabien Lefebvre and Henri Walaszek. We may deploy new or make changes to the panel of experts depending on scope and requirements.
Thierry Gautreau, Project Manager
Profile: With 15 years of manufacturing advanced material in both production and innovation, Thierry's skills are ideally suited to the integration of innovation technology into park machine, company organisation and business itself. Following 2 years successfully developing a new activity in Japan, he joined Cetim in 2012 as Head of innovation and modelling activities. He has been very active with SMEs to implement collaborative robotic solutions and Multiphysics simulation tools. Thiery has many contacts in the heartland of the bar-turning world to set-up a new pilot line dedicated to this specific market. He has interest in SMEs success and appreciates high quality innovative work.
Deja Djeapragache, Head of AM Activities
Profile: Djea has been working as International projects executive at CETIM in the Directorate for International Development. At CETIM he oversees European R&D activities. He has a Master Degree and a DESS (Diplôme d'Etude Supérieure Spécialisée) in Computer Integrated Manufacturing. He has gained more than twenty-five years' experience in co-ordination and technical interventions in various R&D frameworks at National, European (FP, Leonardo, ERANET, INTERREG, Cleansky JU, FCH Ju) and International (Eurêka, IMS) levels. He is now responsible for global AM activities in CETIM.
Paul Calves, Pilot Line Project Manager
Profile: Paul had been very active for many years in metal powder process innovation. He was a pioneer with shock consolidation, a dynamic consolidation which is an experimental technic of consolidating powders using high pressure shock waves. He is a key experienced engineer in powder process and very efficient to develop and industrialize additive manufacturing process. Paul currently coordinates MBJ pilot line project at Region level with a strong focus on accelerated innovation and industrialisation of advanced mechanical solutions. With Paul, SMEs are supported in development of demonstrated technology towards first industrial prototypes. Begin of 2018, 9 industrials have joined on our Metal Binder Jetting pilot line.
Florence Doré, Powder Metallurgy Research Engineer
Profile: Florence has focussed her activity in powder processes: compaction, sintering and past years in additive manufacturing. She has supported numerous industrial companies with a large range of materials: steels, carbides, ceramics and polymers. Driven by SME's and innovative companies, Florence Doré had developed a technological platform dedicated to powders with compaction, sintering and characterisation equipment. She has been head of training program for many years. From working primarily on generic additive manufacturing sessions in the beginning, she has initiated specific programs on design, inspection and many other necessary capabilities in additive manufacturing implementation.
Benoit Verquin, Additive Manufacturing Chief Technologist
Profile: Beniot is a mechanical Engineer with over 20 years of experience in the field of advanced manufacturing technology, focusing on powder material research and innovative processes. Over the last 14 years Benoit has been mainly focused on of Laser beam melting but has worked on many AM technologies. He has worked with most of the mechanical French companies in various industrial sectors which had tested this technology from research program to exploitation. Beniot helped the first French medical company to produce medical polymer device in serial, 12 year ago. More recently he helped the first French orthopaedic implant manufacturer to go on serial production on metallic implants. Driven by demand of French companies and SME's, he has settled different pilot lines with Laser Beam technology and coordinated development activities in industrial conditions. He has recently taken over responsibility to buy and run a rising new technology, Metal Binder Jetting, cost efficient for extensive markets. Benoit Verquin has experience in managing multi partners research programs, including European as SASAM project, and French projects: Fadiperf, Orthopée, MI-3D. Benoit is very active in standard development in the field of Additive including the UNM920, CEN238 and ISO/TC261. Benoit is recognized as one of the French's leading experts in the field of additive manufacturing with over 50 conferences in this field.
Patrick Ebadi, SMEs Innovation Support
Profile: Patrick has extensive experience working with SMEs. A Mechanical Engineer and Business graduate, he has made judgement in SMEs for more than 15 years. Implementing a new technology is a strategic decision coming from top management and organization throughout the organization. With his experience of consulting, he is now managing an AM commercialization project founded by and dedicated to the French Centre-Val-de-Loire region.
Fabien Lefebvre, Principal Research Engineer (Fatigue)
Profile: Fabien is the research and development Manager at CETIM, specifically in the department of Fatigue of Mechanical Components. He has developed different methods to measure and manage residual stresses in industrials applications. Fabien Lefebvre is recognised as one of the leading experts in the field of residual stresses and is very active in this field; he is co-chairman of Fatigue commission in SF2M association, Chairman of French Group of Residual Stress Analyses (GFAC) and Chairman of international conference of Fatigue Design having previously completed his PhD in the Micromechanical assessment of fatigue in airframe fusion welds.
Henri Walaszek, NDT Principal Research Engineer
Profile: Henri Walaszek is currently Referent NDT Expert of CETIM. After having graduated in Physics and Ultrasonic, Henri Walaszek worked in a research and development department developing "intelligent magnetic pigs" for internal monitoring of oil and gas pipes. Later he joined a company for nondestructive evaluation (NDE) equipment and was responsible for the ultrasonic testing application laboratory. Henri Walaszek joined CETIM in 1989 where he is now in charge of the development of the NDE expertise through conventional and innovative techniques on metallic and composite components. With the CETIM team, Henri Walaszek has developed measurement methods in various fields but mainly in electromagnetism and ultrasonic. Part of his research work is applied to materials characterization (e.g. ultrasonic and electromagnetic stress measurement. Henri Walaszek is member of CSP (permanent scientific committee) of COFREND, the organisation composed of French companies dealing with NDE. Henri Walaszek was the coordinator of the MAGNUS Carnot-Fraunhofer project which developed a new methodology to measure the mechanical parameters of steel sheets during milling, and on heat treated parts.
CLASSROOM TRAINING REGISTRATION FORM
FA 90 – Additive Manufacturing – Leading to Qualifications & Production
Schedule shall be agreed with Customers::
Design & Production Support, estimated 20 to 60 days
EASA Qualification Support, estimated 20 to 60 days
Fees shall be based on scope of services required.
Singaporeans & SMEs will enjoy NAMIC & WSG grant subject to approvals, terms and conditions.
To register for the course, please complete this form.
Registration form and course fees are to reach MATCOR before the closing date.
Registration will only be confirmed upon full payment.
Direct internet banking payment to MATCOR Technology & Services Pte Ltd, Bank: Development Bank of Singapore, Bank Code: 7171, Branch Code: 032, Swift Code: DBSSSGSG, Bank Address: 1 Kim Seng Promenade, #02-32, Great World City, Singapore 237994, Account / Iban No: 032-004152-3. / PAYNOW: UEN199201190R
All cheques should be made payable to "MATCOR Technology & Services Pte Ltd" and mailed to 3 Seletar Aerospace Link Singapore 797550, Or
Overseas participants may choose to pay in EUR or USD.
Participants shall bear all bank charges for payments.
For clarification or inquiries please contact Ms. Pei Shyan NG or Ms. Irene LIM at +65 67788285 or send an email to training@cetim-matcor.com
Any cancellation made after closing date – no refund, but delegate substitution is allowed.
Any cancellation made before closing date will receive full refund.
MATCOR reserves the right to cancel or reschedule the course, only if deemed necessary