Sealing of Flanged Joints
Integrate the leak-tightness factor as of the design stage by using the appropriate procedures, knowing the properties of the seals and by applying the appropriate design analysis method
Upon completion of the training, the participants will be able to carry out the following:
describe the behaviour of a flanged joint fitted with a seal;
specify the leak-tightness solutions (flat seals for flanged joints) based on the conditions of use;
define standard practice for factoring leak-tightness into the design of flanged joints
16th – 18th November 2021
15:30 – 18:30 (GMT+8) Singapore / 08:30 – 11:30 (GMT+1) Paris
Theory and laboratory demonstrations. AR
Engineers and technicians from Design departments, manufacturers and suppliers of seals, Quality departments, designers of pressurized equipment, project owners
Recommended further training:
L67 – Designing joints with sealing flanges in accordance with EN 1591
Theory of leak-tightness

Units.
Conversion.
Orders of magnitude.
Flanged joints:

Parameters that affect sealing.
Handling and checking the tightening process:

Tightening procedures.
Tools.
Accuracy and dispersion of tightening.
Seals:

Description of the main categories of seals.
Placing and replacing a seal.
Leak measurement techniques.
Characterisation of flat seals:

Standards.
Customer procedures.
Calculations for flanged joints:

Analytical calculation principle based on the Taylor Forge method (Codap®, Codeti®, EN 13445, EN 13480, ASME, PD5500, etc.).
Principle of design analysis based on the method EN 1591 and presentation of the Cetim 1591 software
Principle of design analysis of finished elements.
Laboratory demonstration on flanged joints (tightening and leak-tightness measurement).
This course will be conducted by Mr. Stéphane JAVANAUD, engineer specialising in the field and providing consultancy services and technical assistance to businesses.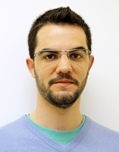 Mr. Stéphane JAVANAUD
Graduated from Ecole Nationale Supérieur d'Ingénieurs de Bretagne Sud (ENSIBS), France 2016 Experience in the field of bolted flange joints, elastomeric seals and Finite Element Analysis.
Engineer in the sealing technologies Cetim's Lab since 2016
Gasket testing: definition of test procedures for gasket characterization and qualification for gasket manufacturers and end-users in the field of Oil & gas, Nuclear and chemical industry
Bolted flange connection calculation:

Training for industry on bolted flange joints and EN1591 calculation method
Several studies around EN1591

Sealing interfaces calculation by FEA with elastomeric O-ring / gasket or metallic O-ring
Materials and Design volume 156 (2018): Temperature-dependent modelling of a HNBR O-ring seal above and below the glass transition temperature. (https://doi.org/10.1016/j.matdes.2018.06.016).
ASME PVP 2018: Flange Gasket Behavior Characterization for Service in Arctic Environment (PVP2018-84284).
VIRTUAL LEARNING REGISTRATION FORM
L70 – Sealing of Flanged Joints
16th – 18th November 2021
Singapore Time 14:30 – 15:30 (GMT+8), Europe Time 08:30-11:30 (GMT+1): (each day 3 hours for 3 days, total 9 hours)
2nd November 2021, Tuesday.
A link to join the Virtual Learning will be sent to you upon confirmation and receipt of fees. Limited seats are available for best results Registrations will be confirmed in writing and is subject to availability
SGD 720.00 OR EUR 450.00 OR USD 540.00 per person (exclude GST)
Registration must reach us on or before 19th Oct 2021, Tuesday:
SGD 648.00 OR EUR 405.00 OR USD 480.00 per person (exclude GST)
With minimum 3 participants from the same company:
SGD 648.00 OR EUR 405.00 OR USD 480.00 per person (exclude GST)
To register for the course, please complete this form.
Registration form and course fees are to reach MATCOR before the closing date.
Registration will only be confirmed upon full payment.
Direct internet banking payment to MATCOR Technology & Services Pte Ltd, Bank: Development Bank of Singapore, Bank Code: 7171, Branch Code: 032, Swift Code: DBSSSGSG, Bank Address: 1 Kim Seng Promenade, #02-32, Great World City, Singapore 237994, Account / Iban No: 032-004152-3. / PAYNOW: UEN199201190R
All cheques should be made payable to "MATCOR Technology & Services Pte Ltd" and mailed to 3 Seletar Aerospace Link Singapore 797550, Or
Overseas participants may choose to pay in EUR or USD.
Participants shall bear all bank charges for payments.
For clarification or inquiries please contact Ms. Pei Shyan NG or Ms. Irene LIM at +65 67788285 or send an email to training@cetim-matcor.com
Any cancellation made after closing date – no refund, but delegate substitution is allowed.
Any cancellation made before closing date will receive full refund.
MATCOR reserves the right to cancel or reschedule the course, only if deemed necessary