In the industrial world, there is a very large number of structures, machines or components for which Residual (remnant) Life Assessment (RLA) is needed.
Because when an equipment/structure has reached its finite design lifetime, its owner has to ask himself crucial questions, such as "Can I continue to use it as it is now and without danger?"
This webinar deals with this issue and provides keys, considering that most of the standards are intended for design only and not for the extension of the service life-time of old equipment.
Features presented from case studies:
This webinar gives an overview of existing references applicable to Residual Life Assessment for steel construction and cranes.
It also presents the RLA methodology of Cetim Group (Technical Institute for Mechanical Industry), with few industrial application examples.
Questions answers
Topics covered during the presentation:
Features presented from case studies:
Context
Ageing of equipment
Proof of fatigue strength of steel structures in Europe: Eurocodes
Crane design, residual life of cranes and related Rules and Standards
Pressure vessels and boilers
Cetim's general methodology for evaluation of Residual Life
Some industrial examples
Questions answers
The webinar will be presented by our French experts Mr Bruno DEPALE (Structural Analysis Expert) who work in the business unit of Simulation and Judy Goh Zhu Di (Matcor Consultant)
Bruno DEPALE
Bruno is a Structural Analysis Expert of CETIM (Technical Institute of the French mechanical industry). He works mainly in the fields of machine design, steel construction and has expertise in a wide range of machines, but with a focus on cranes. Since 2004, he has been French delegate in the working groups of CEN/TC147 and ISOTC96 dealing with Crane design.

His fields of interest cover structural analysis based on FEA (Abaqus), private studies dealing with proofs and strength of structures or mechanical components, projects dealing with RLA (Residual Life Assessment) of structures/machines and training for knowledge transfer to industry (87 sessions).
Expertise of failure modes
Design support and optimization of machines
Seismic resistant design calculations
Standardization
Training (cranes design, RLA, fatigue)
Management of Professional working groups
EN 13001 series of standards – Crane design: Project Leader of parts EN 13001-3-4 « bearings » and prEN 13001-3-8 « shafts »
ARCELORMITTAL: RLA of the runway of a 300 ton bridge crane
SOLETANCHE BACHY: Structural analysis of the design of a new drilling machine
AIRBUS: RLA of load manipulating devices for A380 Program
Career: 1,5 years as a research engineer at MESSIER BUGATTI (landing gears, SAFRAN Group) and structural engineer at CETIM since 1992. Structural Analysis Expert since 2016.

Graduate :
Mechanical Engineering and Products, Engineer, EUDIL, 1989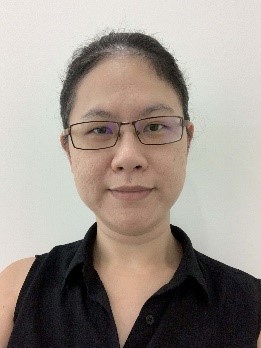 Goh Zhu Di Judy
Having graduated in Material Science and Engineering, she has been an engineer and a consultant for 10 years within Matcor.
She has performed numerous cases in the failure analysis and forensic investigation for system and component failures for various industries. She is one of the leads to perform the remnant life assessment and risk based inspection assessment for pressure vessels and piping for service life extension purpose.
She also has experience as an expert consultant for litigation and insurance claims and loss adjusting cases.
Failure Analysis
Remnant Life Assessment
Fitness for Service Assessment
Risk Based Inspection (RBI) Assessment
API Inspection
Consultant

Remnant life assessment of chimney and boilers
Pipe stress analysis of pipeline with pulsation issue from pump
RBI assessment for various oil & gas plants

Project Manager

Management of failure analysis and forensic investigation cases for a team of 4 engineers.
Career :
Matcor (2009 – Today) : Consultant
Education :
Bachelor Degree – NUS – Material Science and Engineering – 2009
API 510 Pressure Vessel Inspection Certification – 2014, 2020
API 581 Risk Based Inspection Certification – 2016
WEB DISCOVERY REGISTRATION FORM
15:00 to 16:30 (GMT +8), Singapore time
From your home office and via Internet, attend a webinar with our expert for free!
Participation is free but registration is required.
Registration form and course fees are to reach MATCOR before the closing date.
Registration will only be confirmed upon full payment.
Direct internet banking payment to MATCOR Technology & Services Pte Ltd, Bank: Development Bank of Singapore, Bank Code: 7171, Branch Code: 032, Swift Code: DBSSSGSG, Bank Address: 1 Kim Seng Promenade, #02-32, Great World City, Singapore 237994, Account No/Iban: 032-004152-3.
All cheques should be made payable to "MATCOR Technology & Services Pte Ltd" and mailed to 3 Seletar Aerospace Link Singapore 797550, Or
Overseas participants may choose to pay in EUR or USD.
Participants shall bear all bank charges for payments.
For clarification or inquiries please contact Ms. Ng Pei Shyan or Ms. Irene Lim at +65 67788285 or send an email to training@cetim-matcor.com.
Any cancellation made after closing date – no refund, but delegate substitution is allowed.
Any cancellation made before closing date will receive full refund.
MATCOR reserves the right to cancel or reschedule the course, only if deemed necessary