Machining using 5-Axis Multi-function Machines
The latest 5-axis multifunction machines increase your competitiveness. Give your technicians the knowledge they need to make full use of these technologies and produce parts by adopting suitable strategies for this new equipment.
Upon completion of the training, the participants will be able to:
Identify the field of application, advantages, limitations and constraints of machining technologies in 5-axis
multifunction machining centres;
Discuss machining recommendations and strategies regarding the updating your production equipment to include these new machines;
Consider the appropriate decision-making information and recommendations on investing in these technologies;
Understand machining-centre operations using 5-axis multifunction machines, and the associated methods
Basic knowledge of digitally controlled machining.
S 05 – Efficient production in machining centres
Alternating between theory and practice using case studies.
Supervisors, workshop technicians, programmers, Methods managers and new works managers.
General principles:

General information on 5-axis multifunction machines and their applications
Elements of the technology
Machines:

Machine kinematics
Machine characteristics
Peripheral equipment:

Spindles
Attachments
Palletisation and tightening devices
Machine characteristics:

Ensuring efficient multi-axis machine operation.
Machine settings
Programming, machining strategies and CAD/CAM:

Programming multi-axis machining.
Post-processor.
Presentation of strategies and CAD/CAM.
Assessment:

Examples of parts by industrial sector.
This course will be carried out by Mr. Laurent LALLIARD, a Technical expert in the field, providing consultancy services and technical assistance to businesses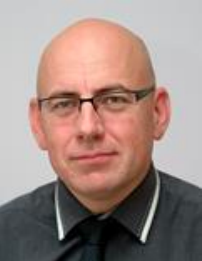 Mr. Laurent LALLIARD
Laurent is a Machining Expert of CETIM (Technical Institute of the French mechanical industry). He works for more than 25 years in the area of machining and the CADCAM industry in the area of 5-axis machining. As CADCAM expert and production unit manager, his skills are technical assistance, especially in multi-axis machining, formation and characterization of process. His fields of interventions are mainly directed towards the implementation of machining and improvement of the numerical chain. He's also a project manager for operating platforms, in the field of high speed machining and multi-axis.
Process Improvement :
Study of technical and economic feasibility
Machining sequence development and improvement
Implementation of 5-axis machines
Numerical chain implementation
Assistance to the choices:
Investment and deployment of CAM solutions
Machine investment
Implementation of machining strategies
Project management:
Management of shared platform for milling and turning
Creation of platform multi-technology
Standardization and technological intelligence
Management of the CETIM shared production unit : SMART Multi-function, machine NTX200SZM Mori Seiki
AREVA : New manufacturing process of a diffuser to replace the molding process
CEA: Component manufacturing feasibility study for the ITER program
CTDec Usitronic: Support for the development and implementation of the solution in France, Switzerland and Spain
Career:
Cetim for 10 years (Expert in machining)
1997 to 2008 Tebis (CAD / CAM Application Engineer)
1995 to 1997 Mhac (CAD / CAM Application Engineer)
Graduate:
Mechanical Engineering, Engineer, ENSAM, 1993
CLASSROOM TRAINING REGISTRATION FORM
S 18 Machining using 5-Axis Multi-function Machines
3 Seletar Aerospace Link, Singapore 797550
We welcome groups to attend our trainings. Please contact us for a group discount package.
To register for the course, please complete this form.
Registration form and course fees are to reach MATCOR before the closing date.
Registration will only be confirmed upon full payment.
Direct internet banking payment to MATCOR Technology & Services Pte Ltd, Bank: Development Bank of Singapore, Bank Code: 7171, Branch Code: 032, Swift Code: DBSSSGSG, Bank Address: 1 Kim Seng Promenade, #02-32, Great World City, Singapore 237994, Account / Iban No: 032-004152-3. / PAYNOW: UEN199201190R
All cheques should be made payable to "MATCOR Technology & Services Pte Ltd" and mailed to 3 Seletar Aerospace Link Singapore 797550, Or
Overseas participants may choose to pay in EUR or USD.
Participants shall bear all bank charges for payments.
For clarification or inquiries please contact Ms. Pei Shyan NG or Ms. Irene LIM at +65 67788285 or send an email to training@cetim-matcor.com
Any cancellation made after closing date – no refund, but delegate substitution is allowed.
Any cancellation made before closing date will receive full refund.
MATCOR reserves the right to cancel or reschedule the course, only if deemed necessary