Risk-Based Inspection Webinar
Unlocking Metal Additive Manufacturing for your application
Free Webinar Registration
Metal Additive Manufacturing (AM) is a disruptive production technology with high positive impact on sustainability, supply chain management, product efficiency, circular economy and affordable healthcare just to name a few areas. To benefit from AM technology, companies must understand the capabilities and reality of the various AM processes so as to better leverage these solutions to their applications.
Organised by Cetim-Matcor, this AM Webinar aims to provide decision-makers and engineers with the necessary technical and economic background on the major metal AM processes (over 7), allowing them to make strategic and educated decisions on which technology is best suited for their business. Each process will be benchmarked against more conventional processes, resulting in key takeaways based on real end-use applications.
Why choose AM?
Major AM processes & their applications
AM processes – Technical & economic reality

Powder-bed processes (PB)

Laser Powder Bed Fusion (LPBF)
Electron Beam Powder Bed Fusion (EBPBF)
Metal Binder Jetting (MBJ)

Direct energy deposition processes (DED)

Wire Arc AM (WAAM)
Wire Laser AM (WLAM)
Wire Electron Beam AM (EBAM)
Powder Laser AM (DED-powder)

Others: Cold Spray (CS), Friction Stir AM (FSAM), Metal Fused Filament Fabrication (FFF)

Key Takeaway
3:30 pm to 4:30 pm (UTC+8)
Topics covered during the presentation:
Features presented from case studies:
Simple milled part
Complex milled part
Turned part treated from a 2D plan
Turned and milled part processed from a CAD file
Mechanical assembly
Origin and reliability of the results obtained
Management of a TechniQuote implementation project
Justification of the investment – ROI
Questions answers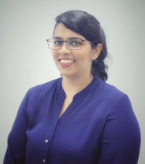 Aishwarya
Additive Manufacturing Project Engineer at Cetim-Matcor
With more than 7 years of experience, Aish is a R&D engineer in Cetim-Matcor, with a special focus on metal additive manufacturing. She leads R&D and collaborative efforts to capitalise on Cetim's expertise and research in the domain to accelerate industrial adoption in the Asia Pacific region.
AMPP Global Research Programme Committee Member, 2022-2025
AMPP Global Technical Programme Committee Member, 2020-2021
Secretary in NACE (Now known as AMPP) Singapore Section, 2019-2020
Corrosion in Metal additive manufacturing
Material Characterization in MAM
Decarbonisation in energy systems
Performance evaluation of fuels and lubricants with additives, (ISO 18436-4, ICML Machinery Lubricant Analyst Level II)
Guillaume MOHARA
Additive Manufacturing Technical Project Manager at Cetim
Guillaume is an Additive Manufacturing technical project manager at Cetim with over 6 years of hands-on experience across the entire value chain. After graduating from Georgia Tech (USA) in 2016, he spent 5 years as an AM Process Engineer in the R&D of a large corporation in Japan, managing projects with international partners on material feedstock characterization, process optimization, post-processing, in-situ monitoring and standardization.
Today, Guillaume is responsible for multiple cross-functional projects on most major AM processes (EBM, LPBF, MBJ, wire-DED and hybrid processes), aiming to demonstrate industrial relevance and increase the maturity of these technologies.
AM process expertise
5+ hands-on experience in LPBF/EBM/MBJ, wire-DED coordinator.
Design, feedstock characterization, post-process & NDE management.
Strategic development
AM technology roadmap development & executive-level reporting.
Internal/external negociations for technology buy-in.
unlocking Metal Additive Manufacturing for your application WEBINAR REGISTRATION FORM
Unlocking Metal Additive Manufacturing for your application
3:30 pm to 4:30 pm (UTC+8)
From your home / office and via Internet, attend a webinar with our expert for free!
Participation is free but registration is compulsory.