WEB DISCOVERY
Static sealing systems overview
Overview of the different static sealing systems and their use under different service conditions.
The aim of this presentation is to give a brief overview of static sealing gaskets, and describe the different Gasket technology and performance.
Topics covered during the presentation:
Gasket families

Sheet gaskets

Semi metallic or envelope gaskets

Metallic gaskets

Gasket types summary
SPEAKERS
The webinar will be presented by our French technical expert Mr Stéphane JAVANAUD supported by Mr Cyril TRUNET.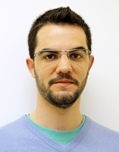 AREAS OF EXPERTISES
 Engineer in the sealing technologies Cetim's Lab since 2016
Gasket testing: definition of test procedures for gasket characterization and qualification for gasket manufacturers and end-users in the field of Oil & gas, Nuclear and chemical industry
Bolted flange connection calculation:

Training for industry on bolted flange joints and EN1591 calculation method
Several studies around EN1591
Sealing interfaces calculation by FEA with elastomeric O-ring / gasket or metallic O-ring
PUBLICATION
Materials and Design volume 156 (2018): Temperature-dependent modelling of a HNBR O-ring seal above and below the glass transition temperature. (https://doi.org/10.1016/j.matdes.2018.06.016).
 ASME PVP 2018: Flange Gasket Behavior Characterization for Service in Arctic Environment (PVP2018-84284).
PROFILE
Graduated from Ecole Nationale Supérieur d'Ingénieurs de Bretagne Sud (ENSIBS), France in 2016
 Experience in the field of bolted flange joints, elastomeric seals and Finite Element Analysis.
Registration Form
Participation is free but registration is compulsory.
Course Name: Static sealing systems overview
Date & Time: TBA
Venue: From your home / office and via Internet, attend a webinar with our expert for free!