The world leader for bolted joint design and failure analysis
Cobra is widely used in the industry to address complex bolted and screwed joints with critical safety and security issues. Many companies in the oil and gas, petro-chemical, agriculture, construction and transportation industry including automotive, rail, air, defence and space use Cobra software to design and analyse heavy duty and dynamic assemblies.
INDUSTRIAL REQUIREMENTS
Benefit from Cetim's expertise in bolted joint for design, analysis, review, verification and dimensioning with controlled torque pre-tightening. COBRA is the best validated software in the market in line with VDI 2230 recommendation extended to NF E 25030-1 and NF E 25030-2 Standards.
Verification and detailed analysis of existing assembly
Improve your understanding of complex assemblies
Deliver reliable documentation with validation report including design options
Reduce verification and design time of complex assemblies
Perform strength analysis beyond VDI 2230 recommendation

UNIQUE FEATURES
With the unique experience in bolted and screwed joints verification and failure analysis, Cetim has developed design and analysis functions that is beyond those specified in VDI 2230.
Improved computation of alternate stress for dynamic loading, accountable for 80% of failures in bolted joints
Unique computation of geometry and tolerances, thread tolerances and material properties dispersion, tightening tool and friction coefficient dispersion for static loading validation
Selection of appropriate torque level to support the design of complex bolted joints
SCOPE OF APPLICATIONS
Mechanical and/or thermal stresses
Fastener geometry (screw, stud, threaded rod, nut, washers…) and its mechanical properties. Threads ISO, UN, UNR
Clamped part geometry
Tightening conditions, method, friction coefficients, limitations etc…

The software can be used to determine the optimum tightening conditions taking into account:
The dispersion of the tightening process (material + Tools + operators)
The friction coefficients (Under head or nut and in the thread)
The risk of surface embedding
The mechanical stress in the screw (tensile + torsion + bending)
The failure load of the threads
The presence of self-locking elements or prevailing torque (locknuts, tight fitting parts)
Once the calculation is performed, the software provides the following information:
Load factor
Dynamic stress range
Stress distribution in the assembly
Tightening method (torque, torque + angle, tensioning…)
Minimum thread engagement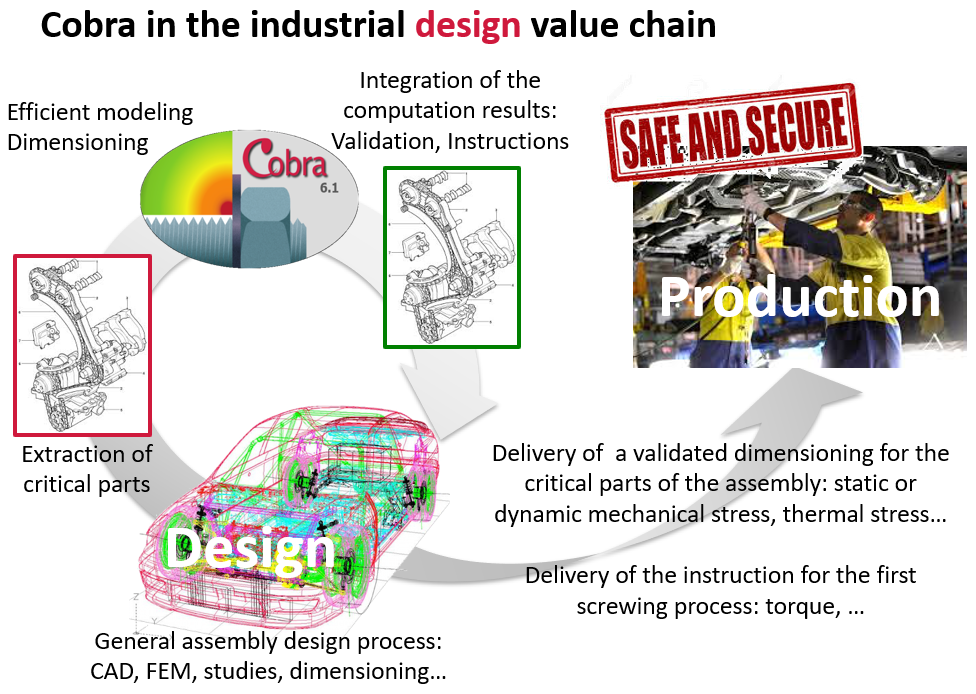 WHY SELECT COBRA?
Cetim is the only software editor with full laboratory testing facilities. Benefit from the experience of a world leader in bolted joint verification and failure analysis:
Save time! 30 minutes for design and verification of a complex assembly. Manual calculations or verification with other tools usually take a number of days
100% focused on operational data and production taking into account installation error and data dispersion
100% validated with continuous verification of data compliance
100% dedicated to address challenges faced by the industry
450 experts able to provide support sessions in addition to onsite training
EXPERIENCE IN RETURN
Specific data bases are provided:
Materials (Re, Rm, E, Thermal influence)
Screws, nuts, washers (diameter, length, property class, screw head size)
Standard holes (fine series, medium, large)
Standard torque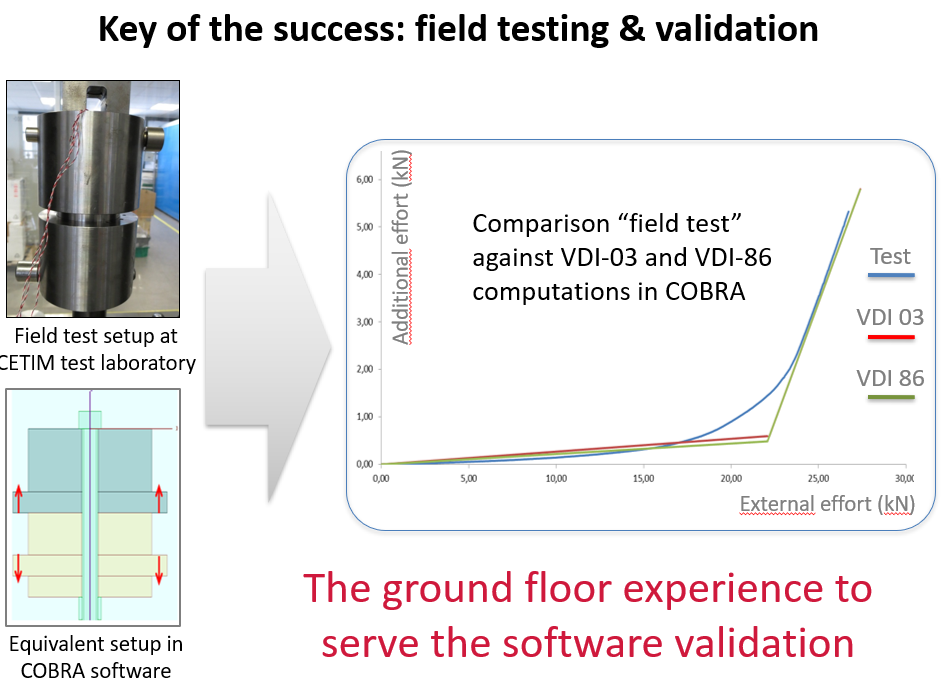 COMPUTATION RESULTS
Resilience (or stiffness) of the fastener and the clamped parts
Dynamic stress (fatigue resistance)
Minimum tightening force to prevent opening and/or sliding
Maximum allowable preload
Minimum and maximum achieved preload
Minimum required properties of fastener, when quality class not defined
Elongation of the fastener after tightening
Maximum stresses in the elastic washers
Bearing pressure on contact surfaces
Minimum threaded length (risk of stripping)
Tightening settings determination (torque, angle, tension etc…)

Tension in the screw
Bearing pressure on the different contact surfaces
Failure load of threads
Required and/or a prevailing torque (on first tightening)
CETIM ACADEMY:
Training for Cobra V6 Software on Bolted Joint Dimensioning:
Five (5) day training session suitable for technical advisors, design office or process engineers may be conducted at your premises. Training content covers:
Knowledge of standards
Characteristics of a bolt
Behaviour of bolted joint
Training on software usage
Case study
K72 Essential Rules for the design of bolted assemblies.
Three (3) day Training Program for Dimensioning of bolted joints and use of the Cobra V6 software with course content covering:
Static and dynamic characteristics of attachment parts,
Design of a bolted joint,
Determination of the tightening torque,
Presentation of Cobra V6 software,
Practical work with Cobra V6,
Loosening, off-centred forces,
Cobra V6 database.
Teaching method alternating theory and practice through case studies or works directed.
Technicians in the methods, control, quality and manufacturing departments, but also all those (project managers, sales engineers, buyers and who want to know about cleaning and cleanliness of parts.
SOFTWARE WEBINAR REGISTRATION FORM
Procor – Cathodic Protection Simulation Software
From your home / office and via Internet, attend a webinar with our expert for free!
Participation is free but registration is compulsory.