With more than 50 years of expertise in the mechanical industry, CETIM has been developing software products dedicated to critical issues and challenges encountered in the various sectors.
The wide range of software products developed by CETIM aim to upgrade and provide continuous improvements in assets management from design, simulations, fabrication, manufacturing, installation, monitoring and extension of life.
All the software products are specified, developed and validated by the expert resources of the CETIM.
We are proud to present the following software products, where Matcor, a Cetim Company, is sole and exclusive distributor in Asia Pacific Region:
In alignment with our mission and vision, we collaborate with exceptional industrial leaders to create optimised and seamless solutions and services for your needs.
We provide license, training and maintenance.
Expert consultancy services for all the related subject matter are also readily available within our team.
Design and simulation are key elements in the development of innovations in mechanics. This area, which is very cross-cutting, covers most of Cetim's business divisions. The main challenges lie at two levels:
Integrate simulation and optimization into the design process;
coupling simulation and testing, to develop, validate and recalculate numerical models, define and customize tests to characterize materials, the behaviour of components and equipment, and qualifying their performance.
Product modelling and simulation lead to virtual optimization of solutions before physical implementation. Therefore, this trend is towards a more efficient way of design, taking into account the prediction of fatigue life and optimizing safety coefficients in a reliable approach. The main objective is to achieve much shorter development times.
Significant progress has been made in the simulation of increasingly complex and multi-physical phenomena.
This technological axis brings together projects concerning: the reliable design of products, the verification of functional requirements and the qualification of performance, analytical methods based on customer need, the design of clean and silent products, simulation of the behaviour and functioning of products.
As a key player in the industry of the future combining digital and mechanical expertise, we offer you the realization of calculation/simulation services and support in perfect alignment with your business requirements.
Our experts also contribute to the development of your employees' skills through the integration of software tools in your company and dedicated training
Our areas of expertise covered static and dynamic simulation:
Pressure Equipment in compliance with the standards
Structure, Fluid (CFD) & Fluid/ Structure Interactions
Thermomechanical
Acoustic
Assemblies: Bolted, welded and riveted and glued
Seism
Fatigue
Cathodic protection against corrosion
Mechanical components in power transmission (gear wheel, gearbox, shaft, etc.)
Topological optimization for additive manufacturing
Modelling of non-destructive controls
Focus on Computational Fluid Dynamics services
CFD simulation helps to minimize the need for physical prototypes and tests while providing deeper insight into fluid flow design performance. Cetim is able to support a very complex project needing fluid-structure interaction if needed.
Flow Types: Steady / transient flows, Viscous / inviscid flows, Laminar / turbulent flows, Compressible / incompressible flows
Applications:
Urban construction: Water and waste water, water hammering, aerodynamics of buildings, acoustic – NVH
Automotive: Aerodynamics, engine combustion and thermal performance, acoustic – NVH
Aviation: Aerodynamics, ventilation and air filtration, acoustic – NVH
Manufacturing: Performance of the cooling system in consumer products, especially for electronics.
Failure analysis: Explosion and structure damage analysis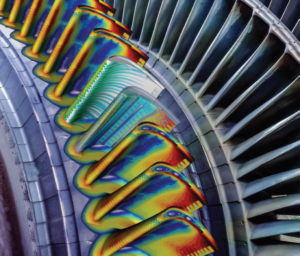 Cetim is the only laboratory mastering both physical & numerical dimensions thanks to its unique means and equipment's, coupled with high-level multi-physics expertise.
Cetim use a wide range of advanced CAE software to perform computation process of simulation services:
Abaqus
Ansys, Ansys CFX, Ansys Fluent
Siemens Simcenter, Nx Nastran, Star-CCM+
Castor, Procor
Hyperworks
Aster
We also have a range of very specific mechanical software, dedicated to Fatigue, Bolted Connections, Cathodic Protection, Pressure Vessels, Machining and Forming.