Cetim Cobra Software: the new version includes finite elements!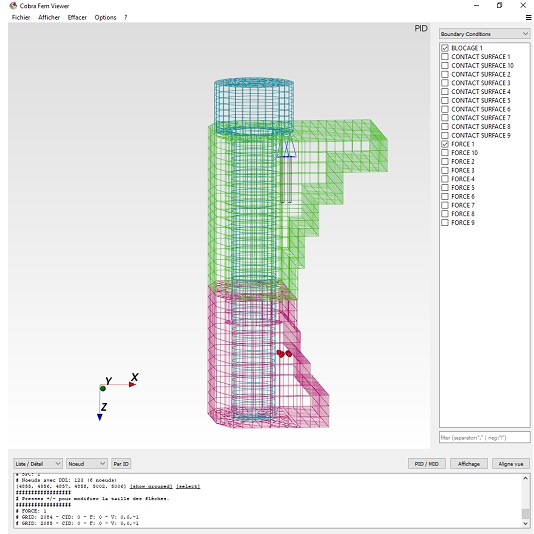 Version 6.5 of the leading bolted joint software includes a module to convert an analytical project into a finite element project, which can be used without advance knowledge in this field.
Cetim Cobra 6.5, the new version of the software developed by Cetim to design, dimension and optimise the behaviour of bolted and screwed joints, has just been released! This new version features an FE-3D module, specifically developed to convert an analytical model into a finite element model.
Benchmark software for bolted joints
Cetim Cobra has gained a solid reputation in France and abroad in many sectors: transport, agriculture, building and construction, energy, etc. for the design and analysis of screwed joints with specific constraints, in particular for validating the static and dynamic resistance of joints under extreme loads. Among other things, it can be used to analyse, verify and size pre-stressed bolted and screwed joints with controlled tightening in accordance with VDI 2230 recommendation and standard NF E 25-030-2. Among the key benefits of this software are that the user can quickly get to grips with complex joints through the expertise Cetim has integrated into the software, generate a personalised design note, reduce the design or check time for these joints and carry out an analysis that transcends the usual design standards.
The new FE-3D module incorporated into version 6.5 allows the user to convert an analytical project into a finite element project and can be used without any special prior knowledge of finite element modelling.
The meshing and boundary conditions are produced by the Cetim Cobra software, which creates a finite element (FE) calculation file for use with 5 commercial solvers (Nx.Nastran, MSC.Nastran, Ansys, Abaqus and Optistruct). Once the computations have been performed by the external FE solver, Cetim Cobra imports the main results associated with the fastener (axial force, bending moment, static and alternating stress). This new feature provides a higher level of accuracy than the more conservative analytical version and therefore better analysis of critical cases.
About Cetim Cobra
Widely used in the industry, Cetim Cobra address complex bolted and screwed joints with critical safety and security issues. Many companies in the oil and gas, petro-chemical, agriculture, construction and transportation industry use it to design and analyse heavy duty and dynamic assemblies. In contrast to manual calculations and verifications, which can take several days to complete, with Cetim Cobra even complex assemblies are resolved in around 30 minutes. The extensive capabilities of this solution reflect the expertise and experience of Cetim in the mechanical engineering sector. Working in conjunction with a wide range of partners in industry and science, Cetim is committed to R&D that cuts across boundaries, in both national and international domains.
For more information on Cetim Cobra: